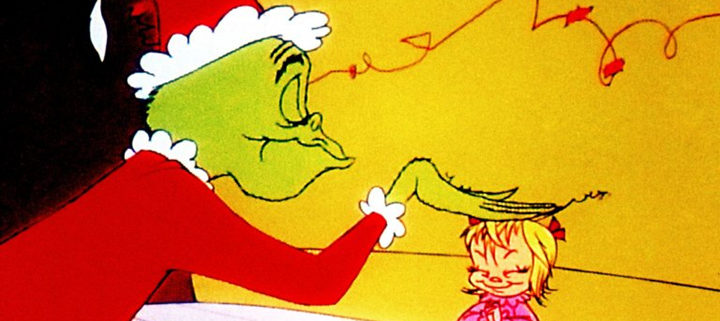 "Then the Grinch thought of something he hadn't before! What if Christmas, he thought, doesn't come from a store. What if Christmas…perhaps…means a little bit more!"

― Dr. Seuss, How the Grinch Stole Christmas!
When December rolls around, do you identify with Cindy Lou Who or the Grinch?
Some years, it's easy to join in the pure spirit of unselfish giving and togetherness that the Whos exhibit when they "stand, heart to heart and hand in hand."  But if you are feeling a little more Grinchy this year, here are some suggestions to kick start that heart into the Christmas spirit before it's too late.
Volunteer at or Donate to a Local Charity
Opportunities to volunteer abound at this time of year.  Consider taking a shift as a bell ringer for the Salvation Army or helping to pack food at your local food pantry or organization such as Feed My Starving Children.
The sheer act of taking the focus off of yourself and giving time to help those less fortunate can provide that happy feeling that lingers long after the service is done.
If time is short, look for "giving trees" sponsored by your community where you can pick a tag off of a tree that lists a child's need and return the items in time for Christmas delivery.  Many local businesses also serve as Toys for Tots collection centers.  Of course, online donations are just a few clicks away.
Enjoy a Classic Holiday Movie
Invite a friend over to watch your favorite holiday movie.  There's no shortage of options from "It's a Wonderful Life" to "Miracle on 34th Street" and even more recent classics like "Elf" or "Love Actually."
Heat up the hot cocoa, pass the popcorn (and the Kleenex if it applies) and snuggle up under the blankets to share a memory that harkens back to your own childhood favorites.
Even a sappy Hallmark holiday movie with the predictable plot and "happy ever after" ending can create that sentimental feeling of the season.  If nothing else, you've found an opportunity to spend some time with someone you care about.
Prepare a Favorite Holiday Recipe
Is there a particular meal, cookie, or recipe that signifies this time of year as part of your past or culture?  Carve out the time you need to make a special holiday meal or treat and then be sure to share it with others.
If family is far away, share your creation with co-workers, neighbors, or those people who help you throughout the year such as your pet groomer, hair stylist, or pool guy ;-)!
Not only will the taste and aroma of your favorite recipe instill that sense of well-being, the act of sharing with others really taps into that "heart-growing" experience.  Here's Nadine's favorite recipe for Italian Lemon Drop Cookies!
Take in a Holiday Performance
Local schools have annual holiday band and choir concerts.
Be sure to check the school calendar in early December so you don't miss the dates.  In addition to free community performances, there are many opportunities to attend other holiday themed performances from The Nutcracker to A Christmas Carol to comedy shows.  You're sure to find something for every interest and budget if you plan ahead.
Attend a Church Service
Do you celebrate Christmas, Hanukkah, or Kwanzaa?
If it's been some time since you've attended a church service, this may be the best way of all to shed that grouchy mood and open your heart up to the true meaning of this time of year.
Better yet, attend a service at a new church for a fresh perspective and experience.  Many churches also host Hymn Sings at this time of year.  Check local listings for times of special holiday services and activities.
Decorate Your Home
Nothing says Christmas more than holiday lights!  Feeling too Grinchy to deal with the cold weather and tangled lights?  Hire a Christmas Decor installer to do the work for you.
You'll get the happy feeling of coming home to a beautifully lit home every night without the fuss, stress, and danger of trying to hang the lights yourself.
Follow even one or two of these ideas, and you'll be on your way to letting your heart grow three sizes that day!
"Welcome, Christmas, bring your cheer.  Cheer to all Whos far and near.  Christmas Day is in our grasp so long as we have hands to clasp.  Christmas Day will always be just as long as we have we.  Welcome Christmas while we stand, heart to heart and hand in hand."

― Dr. Seuss, How the Grinch Stole Christmas!
https://christmasdecor.arvidsons.com/wp-content/uploads/2018/12/Grinch-or-Cindy-Lou-Who-Which-One-are-You.jpg
405
720
Christmas Decor by Arvidson
https://christmasdecor.arvidsons.com/wp-content/uploads/2017/10/logo-penguin-christmas.png
Christmas Decor by Arvidson
2018-12-08 00:02:24
2022-11-11 19:49:49
Grinch or Cindy Lou Who? Which One are You?